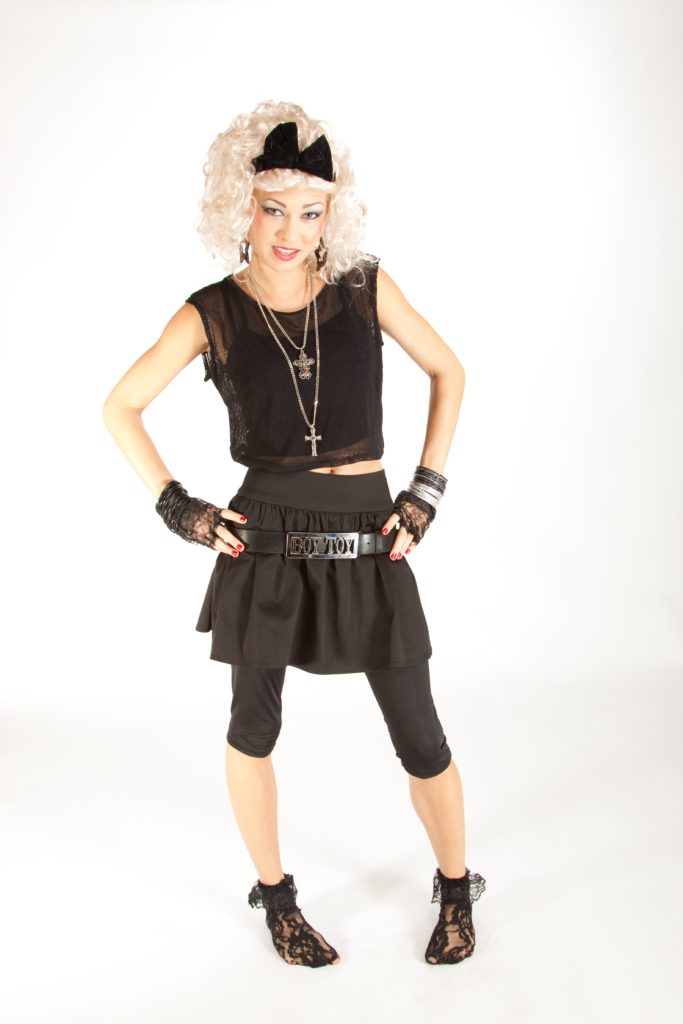 Halloween is the season is of candy, and, more importantly, a display of costumes. People love to dress up as their favourite decades' celebrity icons. Little wonder why Madonna easily comes to mind for the ladies. One of the most celebrated stars of the 80s, her prominence and consistency has spanned over three decades. Despite being majorly popular for her music, Madonna had a strong influence over the fashion trends.
If you want to dress up as Material girl on your next Halloween, or don any of your favourite Madonna's most iconic onstage outfits, we'll be putting you through a couple of them.
"Material Girl" Madonna
Everyone wants to dress up like an old Hollywood icon on Halloween. Madonna's "Material Girl" look is one "easy to achieve" look, and is definitely glam.
How to achieve the Madonna Outfit fashion look:
Simply wear a hot pink strapless dress, opera gloves that match, plus a lot of bling. You can step it up with a wig like that of Marilyn Monroe.
2012 Super Bowl Madonna
Madonna's classy performance at the 2012 Super Bowl Halftime Show won her a lot of football fans. Her outfit on the day has gone on to be a perfect Halloween costume.
How to achieve the look:
Dress up in a short-sleeved black mini-dress girded with a gold belt around the waist. Remember your fingerless leather opera gloves. Your feet should be covered in thigh-high leather boots. Gold pom-poms will give you the festive touch.
"Hung Up" Madonna
Her "Hung Up" music video outfit will take you down the fitness lane.
How to achieve the look:
Underneath a matching wrap sweater, wear a hot pink leotard, and a sequined belt. Complement the look with a flesh-toned knee-high socks and a red pumps.
"Vogue" Madonna
"Vogue" is one of Madonna's most popular music videos. Recreating the style would be good enough a Halloween costume.
How to achieve the look:
Gear up in a black tailored suit worn with a strappy black bra underneath. A dark lipstick and pinned hair in retro waves will complete this look.
A League of Their Own Madonna
Madge's role in the movie "A League of Their Own" is one of the most iconic movie roles she ever played. Her outfit turned out to make the cut for a Halloween favorite.
How to achieve the look:
Dress up in a baseball Jersey with high-waist pants and a baseball hat. Wear a bold red lipstick and carry along a baseball glove.
2014 Grammy Awards Madonna
If you want to recreate Madonna's 2014 Grammy Awards sleek Madonna outfit, look no further.
How to achieve the look:
Underneath a black tailored pantsuit, wear a white button-up and black necktie. Your hair should be loose and wavy, covered with a wide-brim hat, and your dark red lips. Of course, put on your charming fingerless gloves and finish the look with a cane.