Dark blonde hair used to be considered passé. Platinum blonde hair was all the rage. However, thanks to amazing options for color tones and hues, dark blonde hair is suddenly very in!
If you want to lighten your darker blonde hair, there are tons of gorgeous hair colors to choose from to give you a fun pop of color. Or you can add various shades to add a multi-dimensional look to liven up your locks! All it takes is a trip or two to the salon and you can rock your gorgeous dark blonde tresses for all to see!
We have put together a selection of some of the hottest looks for dark blonde hair. Pin your favorites and get ready to undertake a sexy new look!
10 Dark Blonde Hair Color Ideas You Will Want to Try
1.Gorgeous Geode Highlights
The color contrast in this style is simply breathtaking. The dark base with caramel brown and honey blonde tones is very stylish but the light blonde tips give it a playful air. The colors almost resemble the brilliance of a geode glistening in the sunlight. Add some choppy layers to give your locks some added bounce and movement.
https://www.pinterest.com/pin/AWOfGQU4RbBWqxBj5d50LZCs-LvT-XwazImuEZOMyjG90aE4-WtkrkM/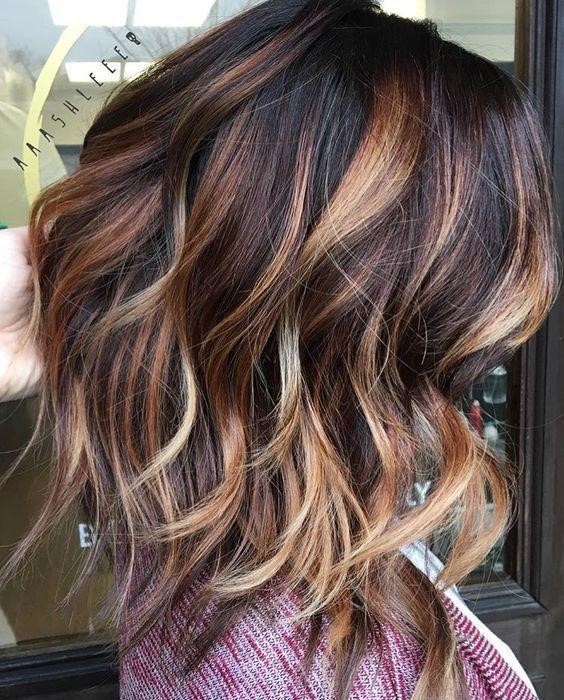 2.Metallic Lilac with Dark Blonde Roots
If you want to think outside the box, try this stunning metallic lilac that is almost silvery shade of light purple. Muted tones and pastels are very in right now and this look is no exception. It might take a few trips to your stylist to accomplish this iridescent shade but it will be worth every moment!
https://www.pinterest.com/pin/116741815322074557/
3.Blonde Balayage with Babylights
This combo of darker blonde and lighter blonde tones is pure elegance! The soft buttery blonde babylights add a ton of dimension. And we love the tousled, bedhead look that adds a bit of sex appeal to this alluring blonde hairstyle!
https://www.pinterest.com/pin/31173422404341338/
4.Natural Blonde Mermaid Waves
If you want a look that looks very natural and sophisticated this pretty blend of dark brown and lighter blonde tones is a close to natural blonde as you can get. And the long cascading beachy mermaid waves are so sexy and feminine that you will make any guy turn into putty in your hands.
https://www.pinterest.com/pin/149252175132252977/
5.Platinum Blonde with Soft Babylights
This icy blonde shade is a nice choice for those who want to keep their length but go for a drastic color change. The darker roots make this style super low maintenance, but the soft blonde baby lights give it a ton of depth. This look is stunning in the sunlight!
https://www.pinterest.com/pin/374924737719463362/
6.Rose Gold
Rose gold comes in many shades and this slightly darker hue of rose gold is absolutely gorgeous. If you want to add a burst of vibrant color to your darker tresses, this shade will give your hair new life.
https://www.pinterest.com/pin/136022851223931296/
7.Dirty Blonde and Platinum OmbreBalayage
If you can't decide if you want to go darker or lighter, why not incorporate the best of both worlds? The darker roots are perfect because this look requires little to no maintenance. The pale blonde balayage and ombre hues are fun and flirtatious for a youthful, carefree look and feel. This color combo is striking on those with long wavy tresses.
https://www.pinterest.com/pin/142356038201705631/
8.Creamy Caramel Highlights
This look is great if you want a multifaceted look for your longer locks. The deep brown base with chunky caramel and honey brown hues adds a ton of depth and movement to even the thinnest hair. You can totally rock these sexy waves if you use sea salt spray on your hair when its wet and simply tousle your tresses and go!
https://www.pinterest.com/pin/134967320063086981/
9.Honey Highlights
This honey brown color is very stunning if you love that sun-kissed look. The darker roots give it a subtle contrast but the pretty honey colored highlights and ends give it a very carefree and youthful vibe.
https://www.pinterest.com/pin/812759063972938449/
10.Brown and Lilac Locks
If you want to make a statement, take a chance on this stunning combo of a warm chocolate brown and lovely lilac balayage. The pale purple is so shimmery and the darker roots  make this trendy color super low maintenance! This looks especially pretty on those with big bouncy waves to add movement and body to your tresses.
https://www.pinterest.com/pin/325596248046810516/
Are you ready to embrace one of these stylish looks for dark blonde hair? We think so, so what are you waiting for? Call your stylist today!